August 26, 2020
Posted by:

admin

Category: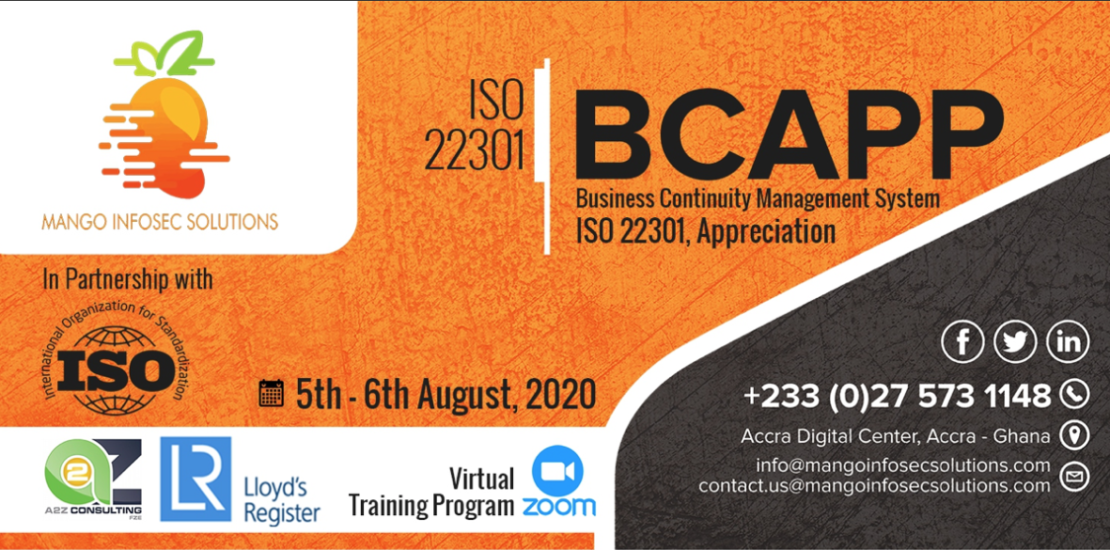 ENROLL NOW
This event enables a delegate to become familiar with the concepts of Risk Management, Business Continuity and the requirements of an effective Business Continuity Management System (BCMS). Attendance on this course is suitable as a first step for a person wishing to become competent in the emerging field of Organisational Resilience and Societal Security; or to gain a basic grounding in the topic if their organisation is planning to obtain certification to 15022301.
ISO 22301 Appreciation Course Outline
You need this course if;
You are concerned with corporate governance, risk management or information security
You have responsibilities that include ensuring the on-going availability of your organisation's products and/or services.
You are involved in the field of Quality Management and wish to understand how it might develop in the next few years.
You wish to broaden your understanding of how a Business Continuity Management System (BCMS) can help meet business objectives.
Your organisation has an obligation (whether legal, contractual or reputational) to increase the robustness of its business processes.
Your organisation is planning to obtain certification to 15022301:2012, either from scratch, or by integrating it to an existing certified management system (such as ISO 9001:2008, ISO 14001:2005, ISO 27001:2005, etc.)
You will learn;
The role of ISO 22301 in contributing to organisational and societal security and the business benefits of Business Continuity Management (BCM).
The requirements of 1022301 and how they relate to the key components of an effective Business Continuity Management System (BCMS).
How they can integrate with an existing Quality Management System.
The basics of Business Impact Analysis and Risk Assessment principles within an organisational resilience context.
The requirements for planning and operational controls for mitigating and managing an organisation's ability to manage disruptive incidents.
The requirements for incident management and continuity plans development.
Key components related to monitoring and reviewing the BCMS effectiveness such as Exercise & Testing, Internal Auditing etc.
The LR certification process.
Virtual Course length
Your future development
This course acts as a foundation for 'Implementing a Business Continuity System using 15022301:2012r, a 2 day practical course aimed at those directly involved in a project to help gain ISO 22301:2012 certification for their organisation.
If you represent an organisation that is in the early stages of BCMS implementation, you may also need to understand and develop effective and realistic scenarios to test whether the plans your organisation is currently developing are sufficiently robust to meet its resilience needs. Attendance on our 2 day 'Business Continuity systems
— Exercise and Testing' course, may help fulfil your need in this area.
ENROLL NOW